What is a Change Order Request Form?
As mentioned in our Change Order 101 post, there's only one constant in construction: change. The specific document by a contractor to formally outline a construction project change - in scope of work, cost and schedule impact - is a "Change Order Request Form."
Whether the change is requested by the client, caused by unforeseen conditions or due to other reasons, it is the contractor's responsibility to clearly outline the change and present the costs in a Change Order Request. Once approved, the customer will issue a Change Order formally updating the contract value.
The COR not only helps protect the contractor to ensure they are being compensated for extra work but also helps the customer clearly understand what they are paying for. When these documents are unclear, vague or just plain sloppy it can quickly lead to strained relationships and mistrust.
Because a Change Order Request sent by a General Contractor to a project owner is typically a package of Subcontractor CORs, we're focusing here on the requirements of a Subcontractor COR sent from a Sub to a General Contractor.
What's included in a thorough Change Order Request Form?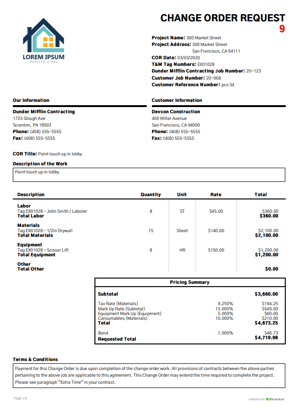 Scope of Work Description- A written description outlining changes to the scope of work that are represented in the Change Order Request. It is important to be detailed and descriptive.
Breakdown of cost impacts - An itemized list of all changes and their associated impact in dollars. Most contracts require these costs to be broken down by labor, material, equipment, and any "Other" categories, clearly showing the quantities and unit rates.
MarkUps- A clear breakdown of the associated overhead and profit, tax, insurance, bonding, etc. applicable to the project.
Schedule Impacts - If the change in scope will affect the project schedule, it needs to be clearly communicated.
Project Info - Basic information should be included:
Project Name
Project Address
Job Number
Customer Name
Customer Job Number
Customer Reference Number (PCO, PCI, CE number)
6. Terms and Conditions- Any standard payment terms or other legal details your company wants to include.
With all of these details clearly included in a Change Order Request, it allows the Subcontractor to cover their risk, saves the General Contractor valuable time in the review process and helps the client clearly understand why they are paying for the change.
Why the 3 Cs - clear, concise, consistent - are so important
The goal with Change Order Requests is to get them approved as fast as possible to keep the project moving forward, but also to enable the Subcontractor to bill for completed work. Having a clean, consistent format for Change Order Requests is one of the easiest ways Subcontractors can help their customers assess, review, digest and ultimately approve their CORs.
If every COR on a job is presented in a different format, the GC can waste valuable time trying to understand the Subcontractor's formatting and methods of documentation. This is made worse when companies create and share CORs differently between project managers and project teams. Subcontractors who adopt clear, concise, consistent Change Order Forms build trust with their customers and ultimately see dramatic improvements in approval times.
Why clean and professional documentation is crucial
Everything a Subcontractor does represents the quality of his or her company's work. That's especially true when it comes to critical Change Order Request documentation. Here's why:
Productivity - When documentation is sloppy and unorganized, it can cause unnecessary delays and waste valuable time spent by a Subcontractor's own team.
Protecting Revenue - For Subcontractors, Change Order costs directly impact their potential revenue on a project. If they fumble on documentation or send their forms in late, it can cause delays in approval, lower approval values or even getting a COR flat-out rejected. If they spend money on labor and materials and the Change Order Request Form doesn't adequately describe and cover those costs, they will lose money.
Customer Satisfaction - Construction is a relationship-based industry. Repeat customers are the holy grail for Subcontractors. But challenges and frustrations with the COR process are the No. 1 reason for broken business relationships, lawsuits and in many cases Subcontractors going out of business.
Best Practices to Manage Your Change Orders
Reminder: Customers don't like Change Order Requests. Regardless of how good a Subcontractor's documentation is, no one likes paying additional money in the middle of a project. The goal of your Change Order Request is to lessen the pain and not cause additional anger or anxiety.
At Clearstory, we've described at length how to get your Change Order Requests Approved Faster, but here's a quick recap:
Make Approval as Painless as Possible - No one likes surprises, but change is an inevitable part of the business. Having a consistent Change Order process makes each subsequent Change Order Request easier. Keep in mind: The less "friction" the customer experiences while reviewing and approving Change Order Requests, the faster the project proceeds.
Be Clear - The first step in getting a Change Order signed and approved is to be clear with what's being requested. Spell out in clear language exactly what's in your COR.
Respect Deadlines - When a Subcontractor is late submitting a COR for a proposed change, it holds up the approval of all other Subcontractors on the job because the owner will want a complete picture of changes before approving anything. If a Subcontractor is chronically late sending CORs, they not only risk their revenue stream but also that of every Subcontractor on the project.
Promptness and Professionalism Stand Out - Customer inboxes are flooded with emails each day. Having a consistent format for your Change Order Request Templates and Emails sets you apart and makes a solid impression. Customers want to work with Contractors they like and who consistently provide great service. A well-written Change Order Request is a positive reflection of your organization and its approach to customer service.
Maintain your Change Order Log - The Change Order Log is a crucial document for the Customer. Without an accurate and up-to-date Change Order Log, the customer is making decisions with incomplete or incorrect data. An unwieldy Change Order Log is a pain for customers to navigate and can damage the relationship between Customers and Contractors. When your Change Order Log is easy to navigate, it demonstrates your professionalism and attention to detail.
How Clearstory Simplifies Change Order Requests and Change Order Request Templates
Worry not: Change Order Templating and Management is simple with Clearstory:
Make Killer Templates - Branded, clean and easy-to-read templates created in

Clearstory
Preset labor, material and equipment rates for auto-populating - Save your rates once and generate future Change Order Requests in a snap
Customize markup, tax, insurance and other rates - Customized Change Orders for each job
Drag and drop to attach back up documentation and sort with ease - Photos, Docs, Attachments and any other supporting docs are added before final submission. Customers can access all your documents in one spot.
Send your customer a single PDF package so no documents get lost - All supporting documents are in one file.
Never have an email bounce back due to file size limits - Get your Change Orders delivered - the first time
Resend Change Order Requests with the click of a button - Make amendments and resubmit instantly
Submit revisions and keep running history of all CORs submitted - Keep an accurate and up-to-date Change Order Request log that gives Customers a clear view of all changes in the Construction Project
Convert

Clearstory

T&M Tags into CORs with the click of a button - Integrate T&M Tags instantly and easily into your Change Order, whether in the office or out in the field
Add consistency across all your project teams - Keeping the same format reduces the amount of document "hunting" to complete Change Orders
To learn more and see our software in action, connect with one of our team members by