Clearstory Enhances Functionality with PlanGrid Integration
Let's face it, no one likes creating or receiving paper Time and Material Tags. With Clearstory's easy to use tools you can eliminate paper and professionally document your Time & Material Tags and Change Order Requests.
But wouldn't it be nice if you could document directly on a plan sheet where the work occurred? Easily attach marked up pictures and drawings as back up documents for your Tags?
Now you can by leveraging your data from PlanGrid.
What is PlanGrid?
Seriously? PlanGrid is a leading construction productivity software. PlanGrid replaces paper blueprints, brings the benefits of version control to construction teams, and is a collaborative platform for sharing construction information like field markups, progress photos and issues tracking.
How the integration works
When creating a T&M Tags with Clearstory's mobile app you can:
Link the T&M Tags to a task in PlanGrid
Attach images from your PlanGrid project as supporting documentation
Attach Snapshots from your PlanGrid project as supporting documentation

Once your T&M Tags and Change Order Requests are created you can link them to a PlanGrid task for reference. By clicking on the link in Clearstory it will launch you directly into the PlanGrid task in PlanGrid.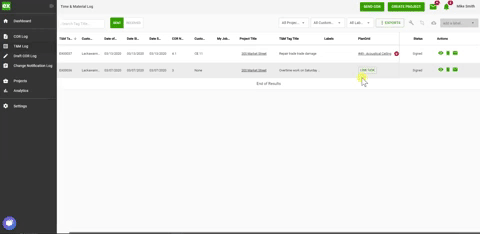 Do I need a developer to set it up?
Nope, you can set it up with just a few clicks. Click here to read our knowledge base article showing how it works and how you can set it up.